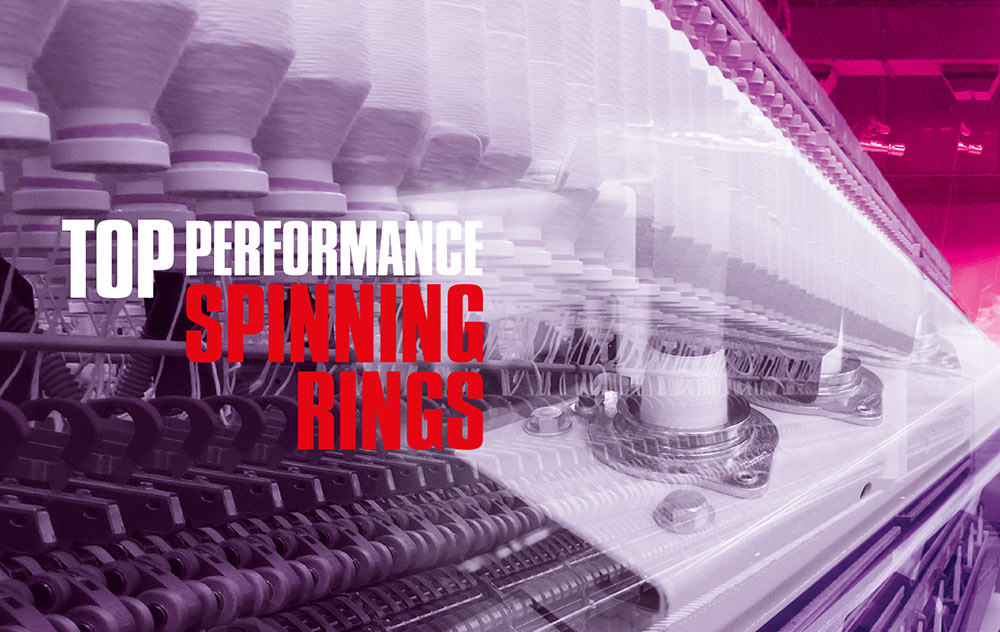 Special composition and no need of break-in procedure
It must meet the customers' needs in terms of speed and reliability of the spinning process: it doesn't need the so called "break-in" procedure as traditional spinning rings do.
No need of special travellers and special coating
It does not require special travellers and have a special coating that doesn't allow micro-welding between ring and traveller even in the harshest working environment.In case of need, it could also have a customized flange profile upon customers request.
Superior working speed and outstanding yarn quality
Top performance spinning ring must reach high working speed thanks to a low roughness, a special flange profile, a dry lubrication and an high consistency of all mechanical parameters (out-of-roundness, hardness, roughness).The amounts of yarn breaks must be controlled in thanks to a stable yarn tension, with a consequent better frame productivity.The area of the spinning triangle should change due to the change in yarn tension, which is strongly influenced by the coefficient of friction between ring and traveller, as the matter of the fact yarn hairiness has its root cause on the dimension of the spinning triangle.
Prosino STEELHAWK Rings is the revolutionary spinning ring, 100% made in Italy that gather all these advantages and properties:
It is provided with a special non-metallic dry lubrication coating that allows to start the new ring at full speed without any long and un-productive running in schedule.
Steelhawk raw material – outstanding low sulphur, high purity steel – is object of specific heat treatment, thanks to subfreezing step allowing the perfect over time dimensional stability.
its superior performance is achieved using international travellers manufacturing brands.
Thanks to its special non-metallic plasma-like coating, Steelhawk guarantees the no deterioration of ring surface even in the harshest working environment (compact cotton spinning, dyed synthetics, 100% rayon) and maintains its smoothness over the years, giving a significant contribution to the control of yarn tension, spinning triangle, and ultimate yarn hairiness.
Since 1946, Prosino with its brand "BORGOSESIA RINGS", produces exclusively in Italy its complete product line that has been worldwide appreciated in the last six decades.
Prosino has manufactured ring cups and has been supplying the most important OEM's such as, RIETER GROUP OF COMPANIES, ZINSER-SAURER GROUP, MARZOLI, COGNETEX,  TOYOTA.