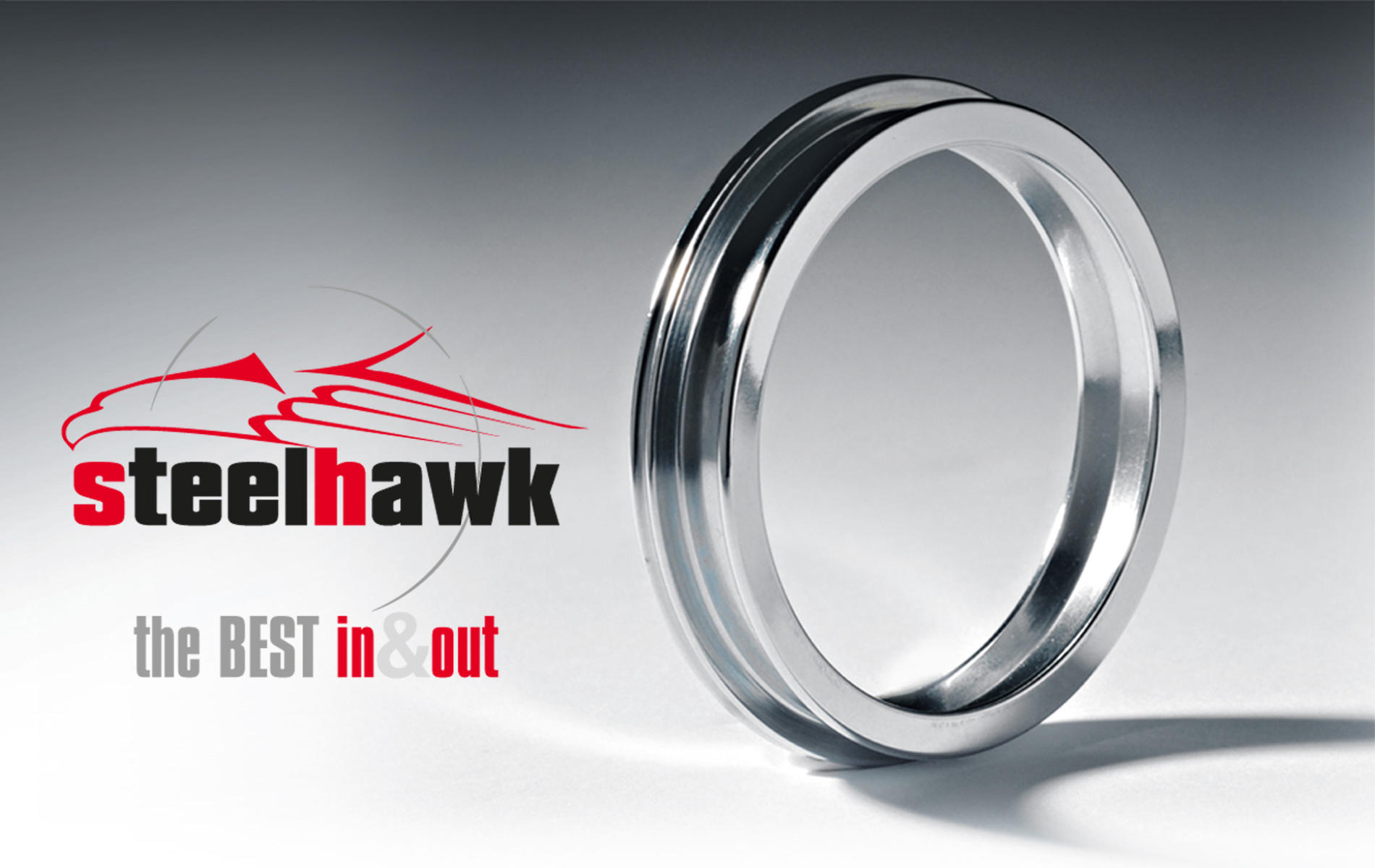 Steelhawk
Steelhawk represents the latest spinning ring development, launched in 2011 and based on 65 years collaborationship between Prosino and the most demanding OEM's  and mills worldwide.
Steelhawk meets the customers needs in terms of speed and reliability of the spinning process. It doesn't need the so called "break-in" procedure: Steelhawk is provided with a special non-metallic dry lubrification coating that allows you to start the new ring at full speed without any long and un-productive running in schedule.
Traditional spinning rings require the so called "break-in" procedure that creates a steel tribo-oxidation. The Steelhawk spinning ring has a special non-metallic dry lubrification coating that allows you to start the new ring at afull speed without any long and un-productive running in schedule.
Steelhawk rings do not require special travellers and superior performance is achieved using international traveller manufacturing brands. Customize flange profile can be supplied upon request.
Technical features
Made in high carbon and high chrome core hardenend ball bearing steel;
Dry lubrication, anti-wear, on-metallic plasma like coating;
Super polished low roughness, traveller working areaty
Download Brochure
Find an Agent
STEELHAWK – The Best In&Out
Excellent Payback
No waste of time and productivity (consequently money saving) thanks to the no running in procedure, It's possible to start at full speed with the normal traveller number;
No deterioration of ring surface thanks to its plasma-like coating that doesn't allow micro-welding between ring and traveller;
The amount of yarn breaks are controlled in a better way thanks to the more stable yarn tension, allowing a better frame productivity;
it guarantees the no deterioration of ring surface thanks to its special plasma-like coating, that doesn't allow micro-welding between ring and traveler even in the most harsh working environment (compact cotton spinning, dyed synthetics, 100% rayon)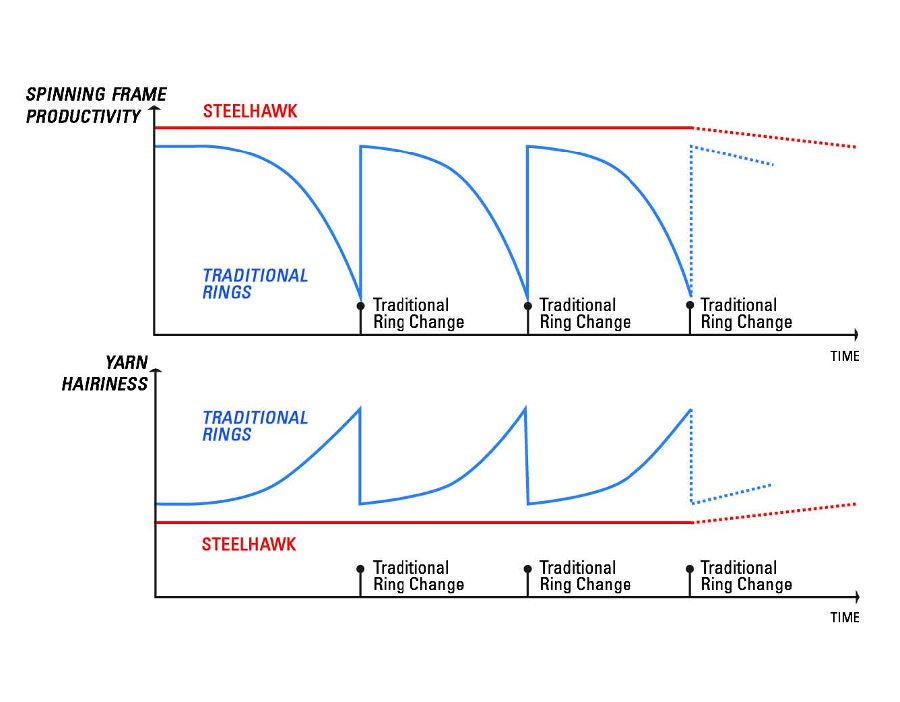 SUPERIOR SPEED and 1st CLASS CONSISTENCY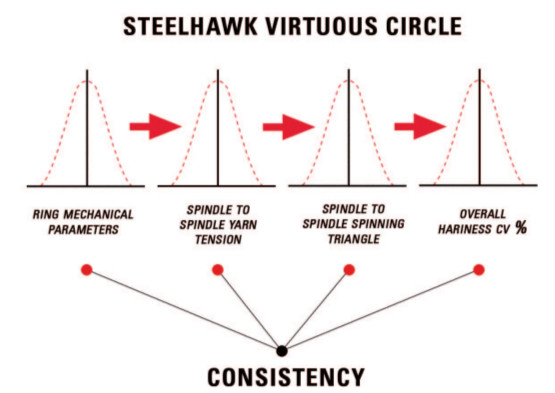 HIGH WORKING SPEED VALUE
High working speed can be reached with STEELHAWK spinning ring thanks to the following factors:
Low roughness (less than 0,2 µRA);
Ultra precise flange profile achieved thanks to the unique PROSINO form turning technology;
Dry lubrification anti wear plasma-like coating;
Very high consistency of all mechanical parameters (out-of-roundeness, hardness, roughness).
EVERLAST COATING
Steelhawk spinning ring helps the reduction of hairness providing a smooth surface for a long period of time on all spindle positions;
Hairiness, among its several sources, has its root cause on the dimension of spinning triangle. The area of the spinning triangle change over time due to change in yarn tension, which is strongly influenced by the coefficient of friction between ring and traveller. When the ring surface is worn out (see picture), the coefficient of friction changes.
STEELHAWK ring, thanks to the non metallic plasma-like coating keep its smoothness over the years, giving a significant contribution to the control of yarn tension, spinning triangle and ultimate yarn hairiness.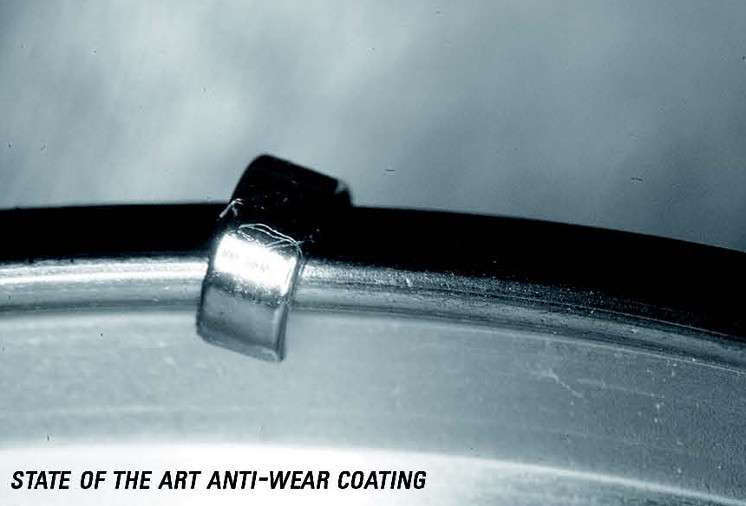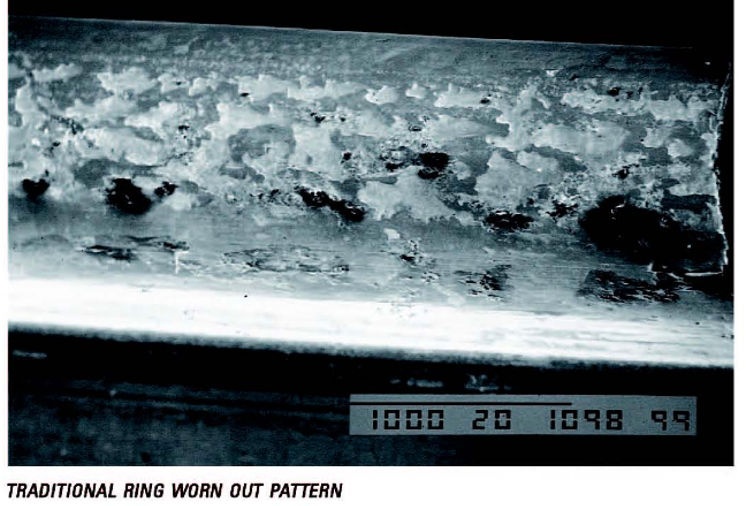 RAW MATERIAL AND HEAT TREATMENT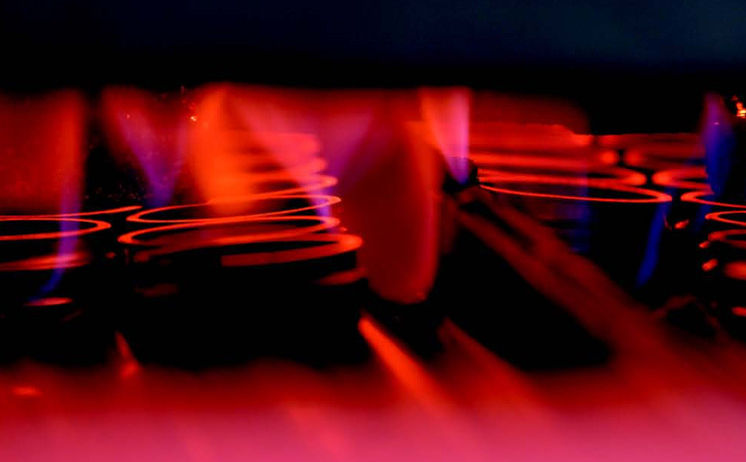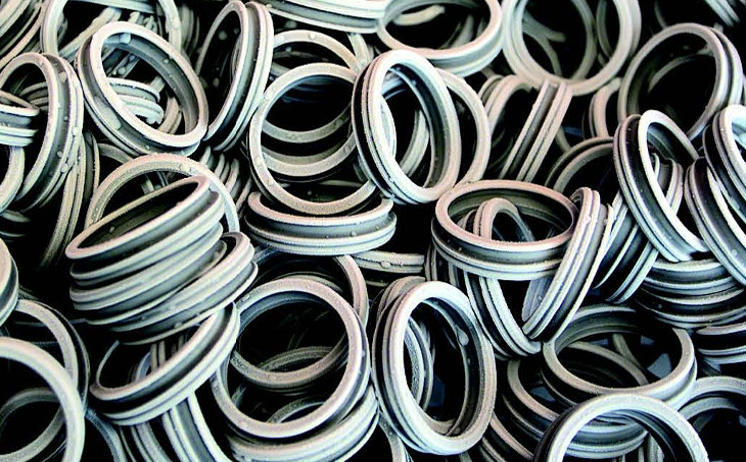 THE BEST CORE STRUCTURE
Made in high carbon, high chrome core hardened 100CR6 ball bearing steel, STEELHAWK has been developed by using our 20 plus year of experience in the manufacturing of super precision and aerospace bearings. This products are produced for the most prestigious first class manufacturers such as SKF, FAG, INA and SNR-NTN;
The raw material used by PROSINO is an outstanding low sulfur, high purity steel that undergo the most challenging inspection before been released as "OK for production". Heat treatment, thanks to subfreezing step allow the perfect over time dimensional stability.
SPINNING PERFORMANCES EXAMPLES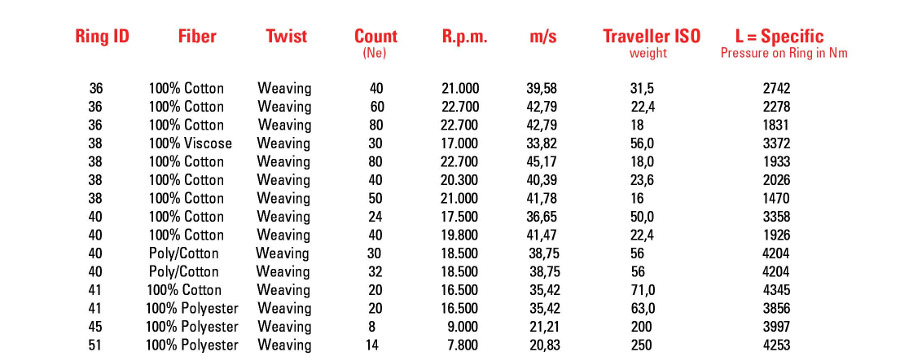 Frequently Asked Questions
What is the lifetime of STEELHAWK rings?
When, due to wear and tear over time, the geometry of the flange is altered and the surface has lost its initial characteristics (e.g. level of roughness), the coefficient of friction between ring and traveller starts to change (especially between ring and ring). The tension differences that are generated require an increase in weight of the traveller with increased possibility of breakage and less control over the spinning process.
We should remember that temperatures of over 800° C can be reached at the point of contact between ring and traveller. One of the main effects of this thermal stress is a longer or shorter life span. Using mathematical calculations and practical observation we have noted that there is a strong correlation between the life span of travellers (in days) and the life span of rings (in months/years). The rotation speed of the spindles, the quality of lubrication of the threaded fibre, the length of the small tube and the general conditions of the spinning machine have an effect on the life span of the travellers. The main reason for that is that the high temperatures developed by friction causes micro-welds between the ring and the traveller, which in the long term lead to a degeneration in the surface of the ring.
This phenomenon can be easily observed in traditional rings, which do not have protective coatings against wear and tear. Thanks to their special coating, the STEELHAWK rings made by PROSINO BORGOSESIA RINGS do not allow micro-welds to occur on the travellers and manage to keep their surface in the same perfect conditions for a much longer time, and consequently they wear out much more slowly.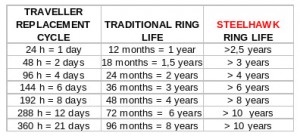 This table was prepared as a result of observations made during spinning and specifies that the percentage of burnt travellers should be less than 5% and that the percentage of seriously worn travellers should be less than 20%.
For this reason, if the life span of a traveller is less than 6 days, we strongly advise against using traditional spinning rings and suggest that you use STEELHAWK rings. In short, the choice of STEELHAWK, in the right conditions of use, allows you to double the average life cycle of a ring.
May I use any kind of travellers on your rings or I have to use a specific brand ?
On our spinning rings do not require special travellers. Anyhow superior performances is achieved using international traveller manufacturing brands. Attached you can find our traveller selection guidelines."
What are the maximum speed achievable with the Steelhawk rings?
How do I select your ring finish according to the traveller speed ?
Is there a price difference between Flange 1 and Flange 2 ? When I have to select Flange 1 or Flange 2
No. We can supply any flange without extra cost. The selection between Flange 1 and flange 2 must be done on practical experience. Generally speaking coarser counts than NE 20 are spun with Flange 2. The use of Flange 2 is also suggested in core-yarn spinning.
What is the minimum ring diameter that you can produce ?
We produce rings with a minimum diameter of 32 mm for super fine counts. With ID less than 36 mm FL 1/2 is also suggested.
Which types of flanges do you offer ?
We can produce any flanges that the customer wants. The most popular ones are NORMAL flange and ANTI.WEDGE (Asymmetrical) flange. Flange 1/2 for fine and super fine counts are also available.
What kind of procedure do I need to follow when I start on my spinning frames for the 1st time STEELHAWK rings ?
What are you suggestions to control and reduce yarn and cop hariness ?
Do you supply rings mounted on aluminium bases ?
In the
attached brochure
you can see all our SRAB solutions for any kind of spinning frame
How do I select the sixe of the ideal tube with respect of ring ID ?
How can compare different traveller brand number ?
PROUDLY WORKING FOR THE BEST BRANDS
We make the difference
When it comes to spinning and twisting rings, Prosino srl is the market leader with an yearly manufacturing of more than 9.000.000 rings and world market presence since 1946. Everywhere in the world the best spinners works with Prosino since they know that they can get customized products, top quality and fair prices directly from the manufacturer. The same care and dedication is put in the relationship with the most important bearing manufacturers worldwide, that have found in PROSINO outstanding quality, just-in-time deliveries, flexibility and technical competence.
Steelhawk: more than 1.000.000 sold